(Last Updated On: May 12, 2022)
The death anniversary ceremony is a must-to-do afterlife ritual in the Hindu religion. First-year rituals after death are very important. Normally people perform this traditional ancestors homage at pilgrimage places. These pilgrimage places are on the banks of the river, on a holy pond or a nearby seashore, or at the confluence of three rivers. The exact ritual date is calculated on death time, Tithi, which falls in Krishna paksha or Shukla paksha as per the Hindu calendar.
---
---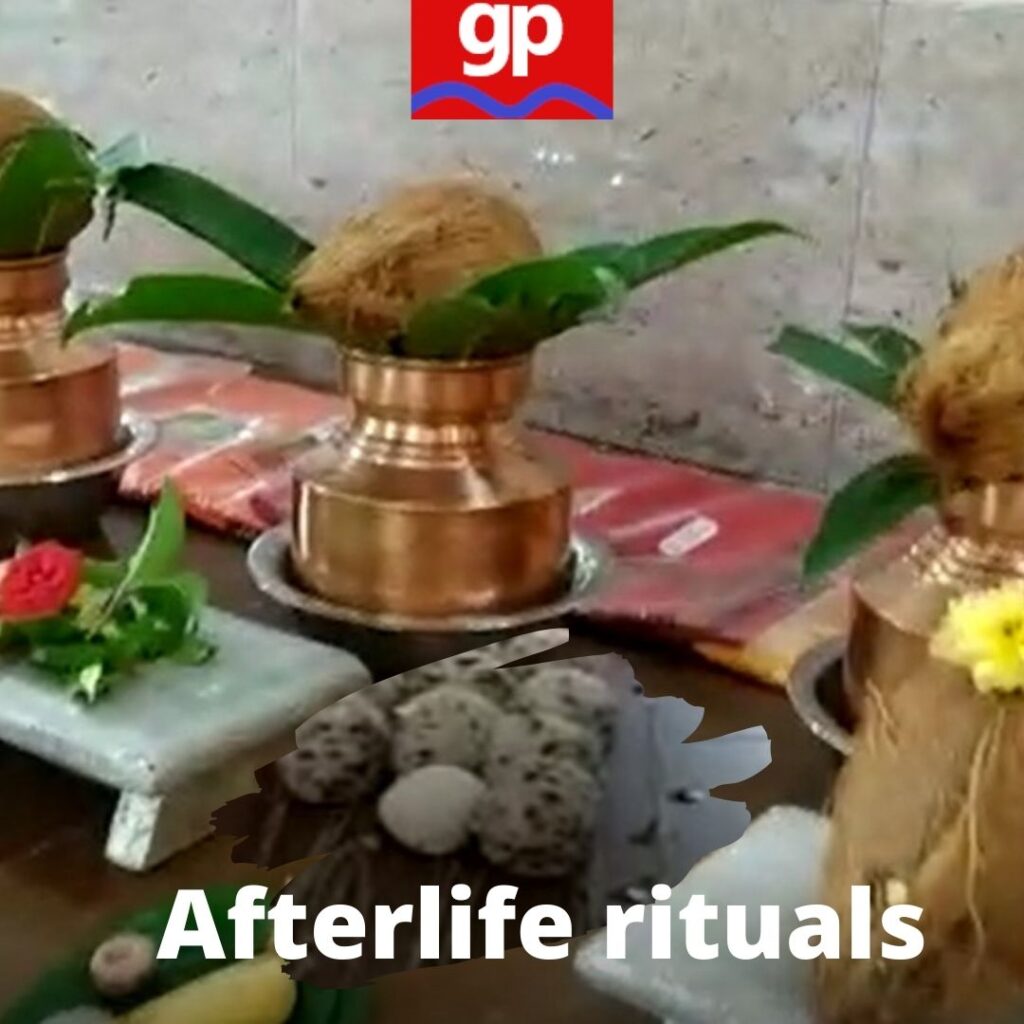 Benefits :
Timely marriage in the family.
Avoids delay in conceiving a child.
Removes Hurdles in work.
Liberation to the departed soul.
Peace of mind for all family members.
Blessing of ancestors.
How to perform Death Anniversary Ceremony | First-year Rituals |
Time needed: 2 hours
Death Anniversary and First-year rituals can be done online and in presence.
Sankalp.




Vinayaka pooja
To know the Death Anniversary Ceremony steps, visit How to perform Death Anniversary.
Death Anniversary Ceremony and First-year rituals cost.
The cost varies from INR 6000-INR 35000. Price variation is due to the number of Brahmins, Tila Sankhya, Brahman Bhojana, and Daan.
Ideas for First-Year Death Anniversary:
There are specific after-death procedures till the first year of the death anniversary. Therefore, although this article is about the first-year death ceremony, other rituals before the first-year death ceremony are also mentioned.
1) Cremation should be as per the Hindu afterlife rituals. One should take advice from elders of the family or Hindu Pundits. India being a diversified country, we follow different systems for cremation, which depends upon the marital status and age of the deceased.
2) First 12 days' rituals are significant from the date of death.
3) 9th, 10, 11th, and 12th are essential ritual days.
4) Especially Brahmins conduct monthly shraddha known as Masika or Masikam. There are 16 Masikams till the first death anniversary.
5) The first death anniversary date is the tithi as per the Hindu calendar.
First death anniversary of Dad or Mom
1 Make a note of the tithi date. English calendar dates and Hindu calendar dates vary. One should make a note of the tithi in the following format.
Masam, Paksham, Tithi.
Example: Date of death: 29/06/2021 Time: 11:20 AM
Place: Bangalore.
The first-year tithi date is 18/06/2022 (Hindu Calendar).
Jyethta, Krishna Paksha, Panchami. (Make a note of Masam, Paksham, and tithi). Subsequent annual rituals should be on the above tithi only as per the Hindu calendar.
2 For Dad/Father following departed souls list must be ready with Gotra (Only deceased)
| Father | Grandfather | Great grandfather |
3 For Mom/Mother following departed souls list must be ready with Gotra (Only deceased)
| Mother| Mother in law ( Husband's Mother) | Mother in Law's Mother in law(Grandmother-In law) |
Ritual Place:
Punyashrama,
Om Beach Road
Gokarna-581326
Karnataka, India
THIS IS THE FIRST STEP. ACT NOW!
Also, See Shraddha Ceremony Questions and Answers.