(Last Updated On: February 15, 2023)
Ashlesha Bali pooja is a specific solution for those who are born in Ashlesha Nakshatra and who have a Sarpa dosha. However, the planets' positions decide whether Ashlesha Bali is a complete or partial solution for Sarp dosha or Naga dosha. Consult the right astrologer to know which puja to perform for Sarpa dosha, Kuja dosha, and Kaal sarpa dosha.
It is misunderstood that in all cases of Kuja dosha and Kaal Sarpa dosha, the solution is Ashlesha Bali puja.
So only when born in Ashlesha Nakshatra and under the influence of malefic planets, one should perform Ashlesha Bali Puja. If Rahu and Ketu encircle the other seven planets in the horoscope, the puja remedy is the Rahu-Ketu puja (Kaal sarpa dosha puja) and not the Ashlesha Bali puja. If Kuja dosha is found in the horoscope for marriage purposes, the remedy is Kuja dosha parihara shanti with Kadali vivaha for a boy and Kuja parihara shanti with Kumbha vivaha for a girl
Benefits
Eliminates or minimizes Rahu and Ketu adverse effects on day to day life happenings
Avoids Delay or hurdles in marriage and conceiving a child. Hence this puja is very important for a family event.
Makes to concentrate on one activity at a time and avoids wandering from one place to another place without any specific reason.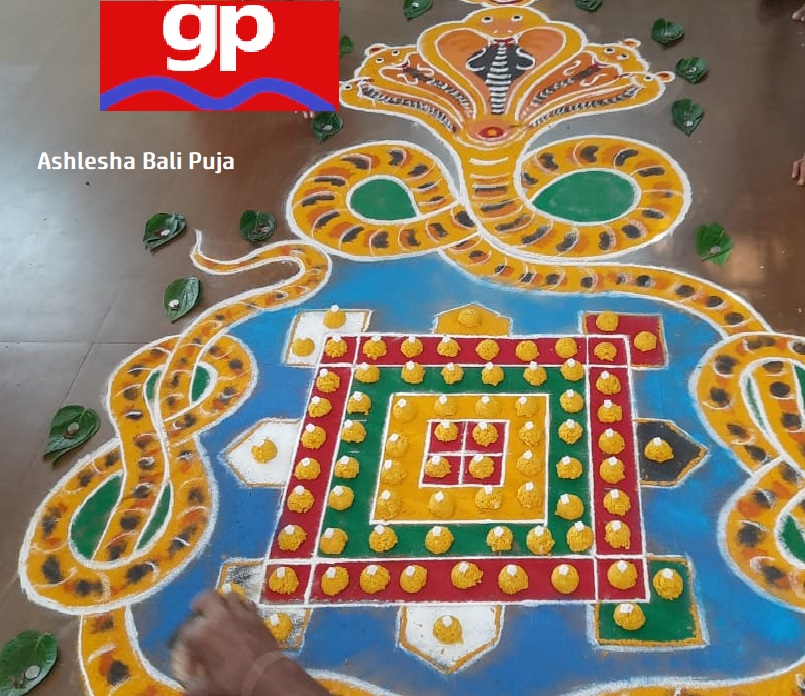 How to perform Individual Ashlesha Bali pooja
Time needed: 2 hours and 30 minutes
Sankalp
Vinayaka Puja
Ashlesha Bali Kalasha sthaapana
Ashlesha Mandal arpane
Ashlesha Bali Jap
Ashlesha Bali Homa
Purnaahuti
Prasad Vitarane
Ashlesha Bali pooja cost
Individual Ashlesha Bali Puja with Ashlesha Mandala and Homam starts from INR 12000-28000 (Inclusive of Puja materials, Accommodation, and Food).
Poja dates 2023- Ashlesha Bali Pooja
MONTH
START DATE & TIME
END DATE & TIME
PUJA DAY
JANUARY
January 09, 06:05, Monday
09:01, Jan 10, Tuesday
Monday
FEBRUARY
February 05,12:13, Sunday
15:03, Feb 06, Monday
Monday
MARCH
March 04,18:41, Saturday
21:30, Mar 05, Sunday
Sunday
APRIL
April 01,01:57, Saturday
04:48, Apr 02, Sunday
Saturday
MAY
May 25,17:54, Thursday
20:50, May 26, Friday
Friday
JUNE
June 22, 01:21, Thursday
04:28, Jun 23, Friday
Thursday
JULY
July 19, 07:58, Wednesday
10:55, Jul 20, Thursday
Wednesday
AUGUST
August 15,16:57, Tuesday
16:57, Aug 16, Wednesday
Wednesday
SEPTEMBER
September 11, 06:14, Monday
23:01, Sep 12, Tuesday
Monday
OCTOBER
October 09, 02:45, Monday
05:45, Oct 10, Tuesday
Monday
NOVEMBER
November 05,10:29, Sunday
13:23, Nov 06, Monday
Sunday/Monday
DECEMBER
1) December 02, 18:54, Saturday
2) December 30, 03:10, Saturday
1) 21:36, Dec 03, Sunday
2) 05:42, Dec 31, Sunday
1) Sunday
2) Saturday
Contact: 9663645980 ( For other dates as per your birth details)
Online booking Ashlesha Bali pooja
Contact: 9448628918/9663645980
To speak in English: 9663645980
To speak in Hindi/Kannada/Telugu/Marathi/Konkani
Contact: 7892323412

Puja Place
Gokarna Punyaashrama, Gokarna, Karnataka. The presence of universal protector Lord Mahableshwar and Subramanya Swamy makes Gokarna a unique place for Ashlesha Bali Puja along with learned Sanskrit priests.
Also read Kaal sarp dosh pooja