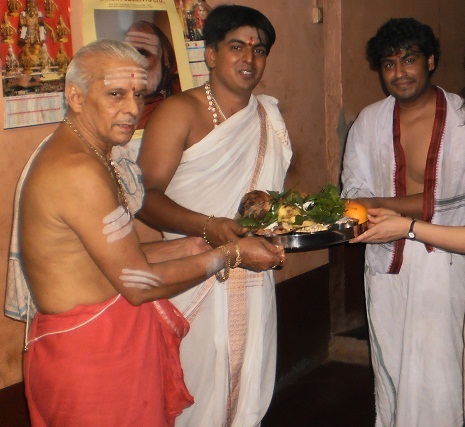 Our Expertise:
Area of expertise: Performing various Hindu religious Pujas, Yajnas, teaching Vedas, Parayanam, and wellness through Ayurveda.
Our Story
Online start-up Story behind Gokarna Puja Services:
It all started in the month of November 2016, when Shri Rajgopal Guruji met one of his friends from Gokarna. The discussion was all about Gokarna emerging as a new beach destination for both domestic and international travelers in the last 10 years. Shri Rajgopal guruji pointed out Gokarna is known for its Vedic culture since the Kadamba dynasty and this small town has all potential to become a Vedic village of South India and for all people who believe in Hinduism and its culture in the world. Keeping this in mind Gokarna Puja Services website was launched on the 25th of December 2016.
We have an ancestral lineage of around 300 years in performing various pujas and teaching Vedas.
About Shri Rajgopal Guruji
Shri Rajgopal guruji hails from a well-known family of Veda pundits and priests. Guruji family is Anuvanshik Pradhan priests of Mahabaleshwar temple Gokarna. Guruji himself is Aagma Veda Praveen certified. Above and all, Guruji is a good human being, easily accessible to devotees.
Our Services
Service is our motto. Guide people to do the right puja. Our website says " Do the right puja"
Services:
1 Pitra dosh, Kuja dosh, Afterlife ritual pujas, Mrityuanjaya Homam, etc. ( All pujas can be performed in your absence also)
2 Free Astrology Services and proper guidance
3 AC and Non AC accommodation, Satvik food
4 Wellness Services.
Trust factors:
See our Google reviews. Customer reviews about our services show quality and results.

To speak in English call: +91 9663645980
To speak in Hindi/Kannada/Telugu/Marathi/Konkani
Call: +91 9448628918 7892323412
Next Steps…
If you find us suitable solution providers kindly contact us to have a quote.