(Last Updated On: December 22, 2020)
Lakshmi Narasimha pooja and homam for prosperity and protection form bad elements. Lakshmi is the Goddess of wealth. Lord Narasimha is the fourth avatar of Lord Vishnu also called, the destroyer of evil. The most popular Narasimha mythology is the legend that protects his devotee Prahlada and smartly destroys Prahlada's demonic father, cruel and oppressive Hiranyakashipu the Asura and king of the daityas. This is a unique puja of Devi Lakshmi and Deva Narasimha.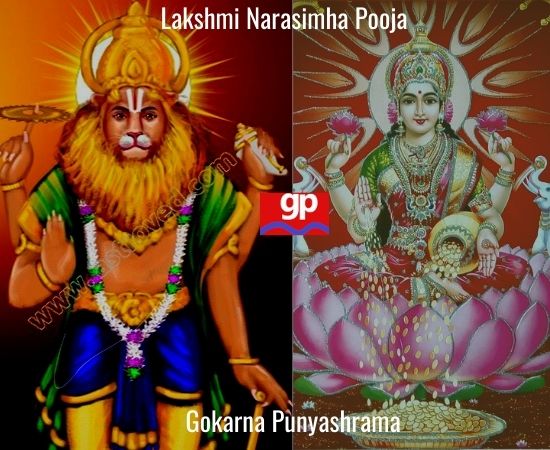 Benefits:
Gain material wealth.
Defend and protect from enemies.
Recovery of hard-earned money.
Victory in a legal battle of conspiracy.
Overall mental and physical stability.
Creates a well-being environment.



Lakshmi Narasimha pooja Procedure:
Time needed: 3 hours and 30 minutes
Sankalp
Vinayaka pooja
Kalasha sthapane
Kalasha puja

Navagraha jap

Lakshmi Narasimha jap

Lakshmi Narasimha homam

Poornahuti
Prasadam
Lakshmi Narasimha pooja cost
The puja cost starts from INR 9000. Number of jap sankyas wouldl vary from 1000 to 17000. The cost also can be INR 40000 or more depending upon number of jap sankyas, number of learned Brahmins and type of donation.

To know more:
Gokarna Punyashrama
Om Beach Road
Gokarna
,
Karnataka
581326
India
Also see : Rudra Homam Gokarna