(Last Updated On: June 4, 2021)
Dhanishta Panchaka Shanti: Dhanistha is the starting nakshatra and Panchanka means five. Panchaka is created due to the union of five constellations or Nakshatras. Therefore called Dhanistha Panchanka. Dhanishta Panchaka Shanti Pooja with fire lab (Agni) is called Dhanishta Panchaka Shanti homa or Marana Shanti
When the person dies in Dhanishta, Shathabhisha, Purva Bhadra, Uttara Bhadra, and Revathi nakshatras, one should perform Kaal Shanti pooja. This Shanti pooja avoids series of sudden and accidental deaths in the family in a short period of one month- twelve months.
Ideally, this Shanti puja should be performed between the 13th day to 16th day, but within one month. Death time and day are more important irrespective of funeral takes place on the same day or some other day. However one should consult poojari regarding funeral Vidhi for persons who died during Dhanishta Panchaka nakshatras or funeral takes place during the Dhanishta Panchaka days as per the Hindu calendar.
Benefits :
Moksha to the departed soul.
Avoids untimely deaths in the family.
Shubha karyas in the family will happen on time.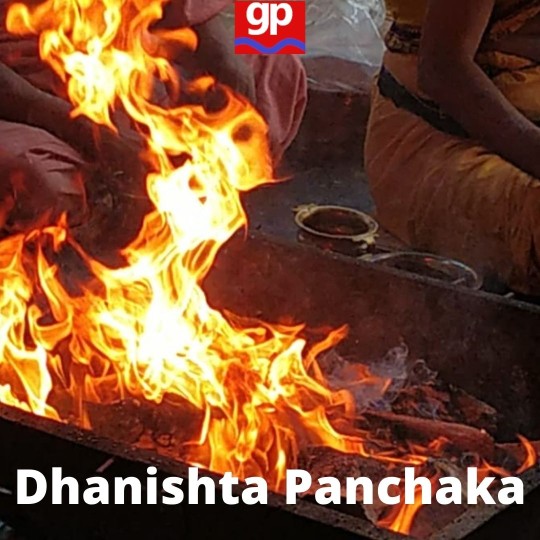 Dhanishta Panchaka Shanti Procedure.
Time needed: 2 hours
The right way to perform Dhanishta Panchakam Shanti Panchaka death time Shanti Procedure at Punya kshetra .
Sankalpa.

The person who died his name mentioned in the Sankalpa with specific Dhanishta Panchakam Shanti Panchaka nakshatra and death day and time. Refer to Dhanistha Panchankalu 2021 for the time and dates of Dhanistha Panchakalu 2021. Maran Shanti for the departed soul.


Vinayaka pooja.

The Vedic procedure to have blessings of Lord Vinayaka for completion of the Marana Kaal Shanti pooja without any hurdles

Navagraha Jap.

Chanting of mantras of nine planets.

Kaal shanti Jap.

Chanting of specific Dhanistha Nakshatra Jap as per the death day and time.

Mrityunjaya Jap.

Jap chanted to avoid accidental or untimely deaths in the family. Mrityunjaya Jap for longevity.

Navagraha, Kaal shanti Jap and Mrityunjaya Jap Homa.
Poornahuti.
Prasad Vitarane.

Dhanishta Panchaka Shanti Pooja cost
The basic cost is INR 8000.
With Navagraha jap and Homa cost is from INR 14000-28000 including food and accommodation.
With Navagraha jap, Mrityuanjaya Jap and Homa cost is from INR 24000-45000 including food and accommodation



Dhanishta Panchaka dosha Kaal days, start time, and end time in the year 2021:
Dhanishta Panchaka inauspicious death days and time for the year 2021: One should refer below dates and compare with death date and time in Hindu Calendar. So it is suggested to perform shanti within the time frame.
January 2021

| | |
| --- | --- |
| Panchanka Start Time | Panchanka End Time |
| January 15, 2021, Friday at 05:06 PM | January 20, 2021, Wednesday at 12:37 PM |
February 2021

| | |
| --- | --- |
| Panchanka Start Time | Panchanka End Time |
| February 12, 2021, Friday at 02:11 AM | February 16, 2021, Tuesday at 08:57 PM |
March 2021

| | |
| --- | --- |
| Panchanka Start Time | Panchanka End Time |
| March 11, 2021, Thursday at 09:21 AM | March 16, 2021, Tuesday at 04:44 AM |
April 2021

| | |
| --- | --- |
| Panchanka Start Time | Panchanka End Time |
| April 7, 2021, Wednesday at 03:00 PM | April 12, 2021, Monday at 11:30 AM |
May 2021

| | |
| --- | --- |
| Panchanka Start Time | Panchanka End Time |
| May 4, 2021, Tuesday at 08:44 PM | May 9, 2021, Sunday at 05:29 PM |
June 2021

| | |
| --- | --- |
| Panchanka Start Time | Panchanka End Time |
| June 1, 2021, Tuesday at 03:59 AM | June 5, 2021, Saturday at 11:28 PM |
July 2021

| | |
| --- | --- |
| Panchanka Start Time | Panchanka End Time |
| July 25, 2021, Sunday at 10:48 PM | July 30, 2021, Friday at 02:03 PM |
August 2021

| | |
| --- | --- |
| Panchanka Start Time | Panchanka End Time |
| August 22, 2021, Sunday at 07:57 AM | August 26, 2021, Thursday at 10:29 PM |
September 2021

| | |
| --- | --- |
| Panchanka Start Time | Panchanka End Time |
| September 18, 2021, Saturday at 03:26 PM | September 23, 2021, Thursday at 06:44 AM |
October 2021

| | |
| --- | --- |
| Panchanka Start Time | Panchanka End Time |
| October 15, 2021, Friday at 09:16 PM | October 20, 2021, Wednesday at 02:02 PM |
November 2021

| | |
| --- | --- |
| Panchanka Start Time | Panchanka End Time |
| November 12, 2021, Friday at 02:52 AM | November 16, 2021, Tuesday at 08:15 PM |
December 2021

| | |
| --- | --- |
| Panchanka Start Time | Panchanka End Time |
| December 9, 2021, Thursday at 10:10 AM | December 14, 2021, Tuesday at 02:05 AM |
Ritual Place:
Punyashrama,
Om Beach Road
Gokarna-581326
Karnataka, India
Know More:
E-mail: gokarnapuja@gmail.com
To speak in English/Kannada/Hindi
Phone: +91 9663645980
To speak in Telugu/Kannada/Marathi/Konkani
Phone: +91 9448628918

See also
Annual Shraddha Cost