(Last Updated On: December 22, 2020)
Navagraha pooja benefits, cost, timings and puja places
Navagraha pooja as the name denotes, puja or homam performed at home, office or temple to get right solution for navagraha doshas. Each graha has its own significance and effects on one's life failure or success. Navagraha homam Dwisthanam online pooja consists puja at your place and puja at Gokarna, Karnataka on a specified day and time.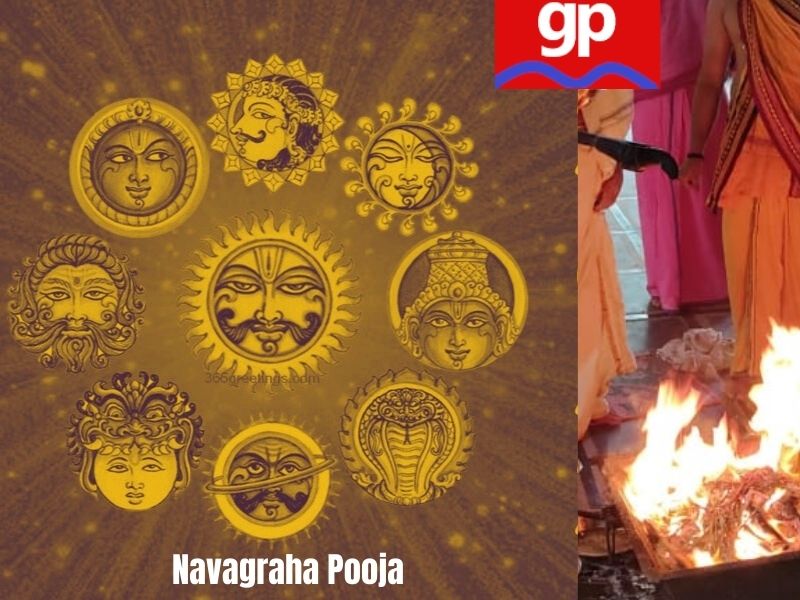 Sun– Health Moon– Success Mars– Wealth
Mercury– Wisdom Jupiter– Knowledge and Education
Venus-Creativity like art, music Saturn-Happiness
Rahu-Friendship Ketu-Health, wealth, and relationship
Who should perform Navagraha puja/homam?
1 As per the advise of learned astrologer
2 If four or more planets are placed in unhealthy position in a horoscope.
3 Depending upon rahu and ketu positions and dosha like Kaal sarp dosha.
4 All deva and devi homa/havan/puja as Navagraha purvak.
Procedure of Navagraha pooja
Time needed: 2 hours and 30 minutes
Navagraha Sankalp
Vinayaka pooja
Kalasha sthapane
Kalasha puja
Navagraha jap

Chanting of Ravi, Chandra, Mangala, Budha, Guru, Shukra, Shani, Rahu and Ketu mantras. The number of jap sankyas depend upon the effect of each graha on individual or a family.

Navagraha Homam
Purnahuti
Prasad vitran
Benefits of Navagraha pooja
By performing navgrah shanti puja, positive energy is induced to improve health, gain wealth, achieve success in profession and improve relationships. Gokarna, Karnataka is the right place to perform navagraha homa. This puja can be performed at Gokarna in the presence/absence of performer.

Navagraha pooja and homam cost
Navagraha pooja and Homam cost starts from INR 9000. Paripurna navagraha puja cost can go up to INR 155000. However the cost depends upon type of navgrah shanti puja. combination and number of navagraha jap sankyas, number of pundits and daan.
To Know more and to overcome bad effects of nine celestial bodies contact:
Punyashrama
Om Beach Road
Gokarna, Karnataka.
Pin code: 581326
E-Mail: gokarnapuja@gmail.com
Phone 1: 9663645980 (To speak in English/Hindi/Kannada)
Phone 2: 9448628918 (To speak in Kannada/Hindi/Telugu/Marathi/Konkani)