(Last Updated On: January 24, 2022)
Maha Ganapathi homam removes all obstacles. People perform mainly to remove hurdles related to health, education, and material gain. Lord Ganapathi is the path clearer in the base chakra known as Mooladhara chakra of the human subtle system. In this chakra Sushumna nadi is the primary (center) path. The Prana should flow without any blockages through this nadi. This nadi runs along the spinal cord and passes through all seven chakras of human body. Sushumna nadi is also known as wisdom path, peace path and Brahmanda path.
So to attain different levels of success, physical and mental path flow should be clear. Due to this Vinayaka homam is an important homa. The presence of dwibhuja (two arms) Ganapathi at Gokarna, along with Atmalinga makes Gokarna, Karnataka very special place for Ganesha puja or homam. Hence Ganapathi homam at Gokarna will give right results. Lord Ganapathi puja or Ganapathi homam is also commonly known as Vinayaka puja/homam.
.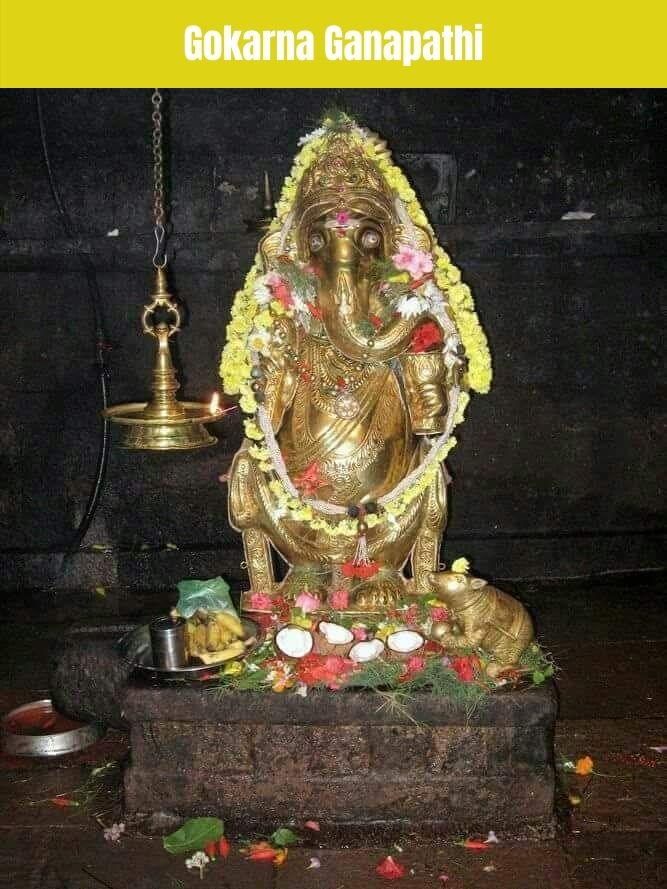 Ganapathi homam benefits
Wealth gain
Excellence in Education
Success in profession
A healthy relationship with all
Peace of mind
Health improvement

Ganapathi Homam (Havan) procedure
Time needed: 3 hours
Maha Ganapathi Homam for health, wealth, knowledge and peace of mind
Sankalpa

Process of mentioning Gotra, Nakshatra and Rasi and to declare intention of doing the Maha Ganapathi homam.

Vinayaka pooja

Prayers to Lord Vinayaka to complete the Maha Ganapathi homam without any hurdles.

Kalasha sthaapana
Kalasha pooja
Maha Ganapathi Homam Japa

A specific numbers of mantra chanting in Sanskrit called japa for Lord Ganesha.

Pradhan Ganapathi Homam with ashta dravya

Chanting of Maha Ganapathi mantras and ashta dravya samarpane into to the fire lab.
Ashta dravya (Eight ingredients): Coconut grates, Banana, Flattened rice (rice flakes), Sugarcane cut pieces, Modakas, Sesame (Til/Yellu), Powdered Jaggery, Flour.


Purnaahuthi

Cloths, Coconut and fruits are used while doing purnaahuti.

Mangala aarthi
Prasad vitrana
Maha Ganapathi Homam cost
Starts from INR 12000 and goes up to INR 45000. Maha ganapathi puja cost depends upon the number of japas and number of brahmins and type of daan. Maha Ganapthi japa sankyas ( numbers) can vary from 2000 to 21000.
Sankashti Chaturthi 2022 dates and Time in Bangalore.
| | |
| --- | --- |
| Date | Time (Moon Rise/Chandrodaya) |
| January 21, 2022, Friday | 09:13 PM |
| February 20, 2022, Sunday | 09:42 PM |
| March 21, 2022, Monday | 09:26 PM |
| April 19, 2022, Tuesday | 09:17 PM |
| May 19, 2022, Thursday | 10:17 PM |
| June 17, 2022, Friday | 10:00 PM |
| July 16, 2022, Saturday | 09:29 PM |
| August 15, 2022, Monday | 09:28 PM |
| September 13, 2022, Tuesday | 08:40 PM |
| October 13, 2022, Thursday | 08:40 PM |
| November 12, 2022, Saturday | 09:00 PM |
| December 11, 2022, Sunday | 08:36 PM |
One should consider offering special prayers, Homam /Havan in any one of the above mentioned days for Lord Ganapathi.
To Know more:
Punyashrama
Om Beach Road
Gokarna, Karnataka.
Pin code: 581326
E-Mail: gokarnapuja@gmail.com
Phone 1: 9663645980 (To speak in English/Hindi/Kannada)
Phone 2: 9448628918 (To speak in Kannada/Hindi/Telugu/Marathi/Konkani)
See also :
Sudarshana Homam
Maha Mrityuanjaya Homam