(Last Updated On: January 17, 2021)
Shastipoorthi Pooja for successful completion of sixty years. This is also known as Shashtiabdapoorthi. Shasthi means 60, Abda is a year in Sanskrit and poorthi is completion. So in English Completion of sixty years. Shasti Poorthi pooja is also the process or a period of changing from a material state to a spiritual state. When the couple or a male successfully complete, sixty years of marriage, this celebration gives an opportunity for a social gathering of members of a family who have not seen each other for some time.
60th Birthday Pooja for a male/female is a landmark. According to Vedic scriptures, the life span of a human being is 120 years on the earth planet. One should leave half of the life span. That is 60 years. This 60th marriage anniversary is also an important event wherein we follow the same procedures of a normal marriage. Done on the day on which the birth nakshatra falls on the birth month as per the Hindu calendar. Normally couples children or the person who completes 60 years, his children organize this celebration along with well-wishers of the community.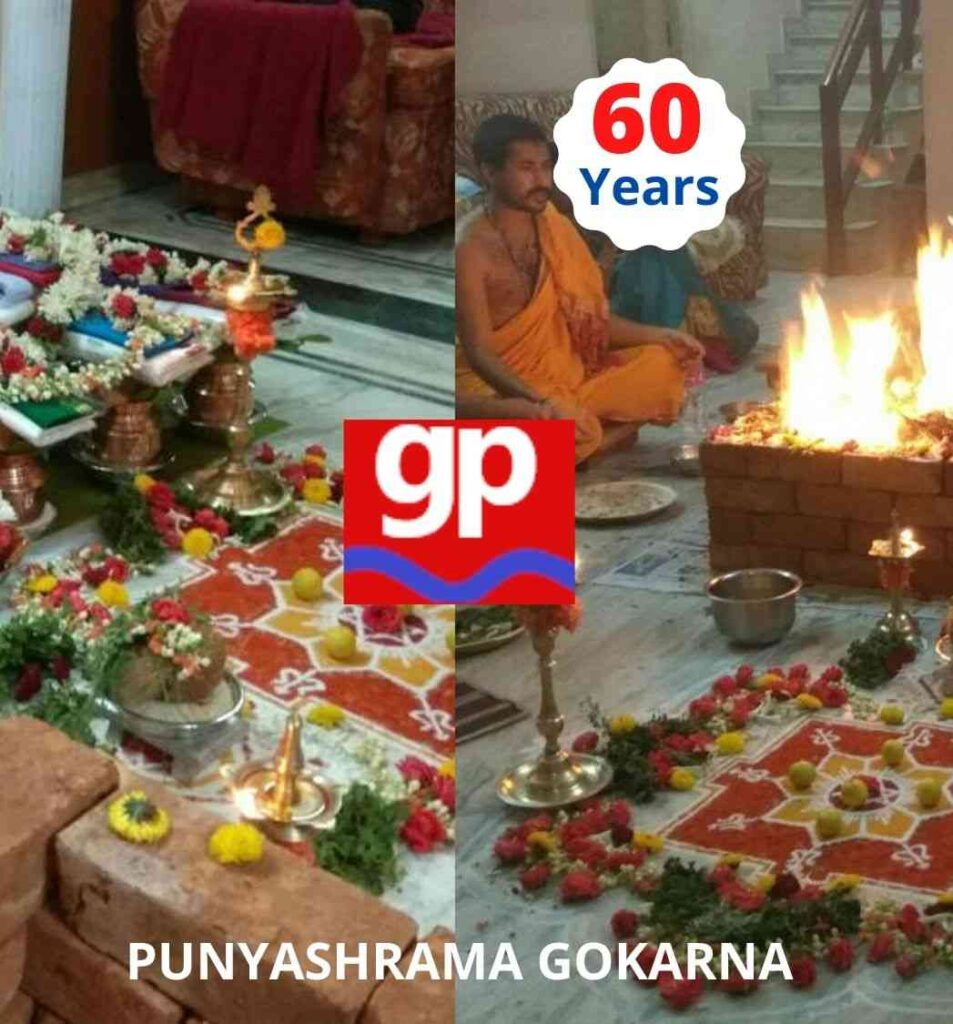 Shastipoorthi Pooja Benefits
Good health.
Longevity.
Union of family members brings in Feel Good Factor. So this pooja is very good for contentment
The right time to get blessings of elders of the family at one place on an auspicious day.
It is also the fulfillment of one among the different Hindu sanskaras.
Shastipoorthi Pooja Procedure
Time needed: 4 hours
This puja consists chanting of Ayush, Mrityuanjaya and Dhanavantri mantras along with Navagraha purvak homam
Sankalp

Process of mentioning name, nakshatra and rashi of the person or couples.

Introduction.

This is followed by Sankalp. Announcement of names of Family members. Brief introduction of the person/couples for whom this pooja is performed.

Vinayak Puja
Kalasha sthaapane
Kalasha pooja

Navagraha jap

Ayush Jap
Mrityuanjaya Jap.

Mriyuanjaya jap for longevity and to get blessings of universal protector.

Dhanavanri Jap.

Dhanavantri jap to get rid of illness

Navagraha, Ayush, Mrityuanjaya, Dhanavantri homam.
Poornahuti.
Prasad vitrane and bhojana.
Shastipoorthi Pooja Cost
This puja cost starts from INR 12000 and goes up to a few thousand of rupees. The puja with homam depends upon Japa Sankhya of Ayush, Mrityuanjaya, and Dhanvantri. Bhojana menu and Brahman daan are also important factors for deciding the cost.
Online Pooja for 60th Birthday, 25th / 60th Wedding Anniversary
Online pooja is available in your absence with live video at Gokarna, Karnataka. If you are unable to perform this pooja in Bangalore / Hyderabad / Chennai / Mumbai / Delhi, perform online at Punyashrama Gokarna. The presence of Lord Shiva Atmalinga, Dwibhuja Ganapathi, and surrounded by 50 plus temples, the Arabian Sea, and Koti tirtha makes Gokarna a powerful energetic place in the country. At Punyashrama Gokarna we deploy Vedic experts who are subject matter experts to perform the 60th birthday puja, 25th or 60th wedding anniversary, etc.
Puja Place:
Punyashrama
Om Beach Road
Gokarna, Karnataka.
Pin code: 581326
Know More:
gokarnapuja@gmail.com
9663645980 (English/Hindi/Kannada)
9448628918 (Kannada/Telugu/Hindi/Marathi/Konkani)
Also See : Maha Mrityuanjaya Homam
Dhanavantri Homam