(Last Updated On: November 11, 2021)
Pooja Remedies for health problems can be classified into three categories.
1 Astrological analysis Pooja for Health Problems.
2 General Poojas for overall well-being.
3 Poojas for a speedy recovery from illness due to medical reasons.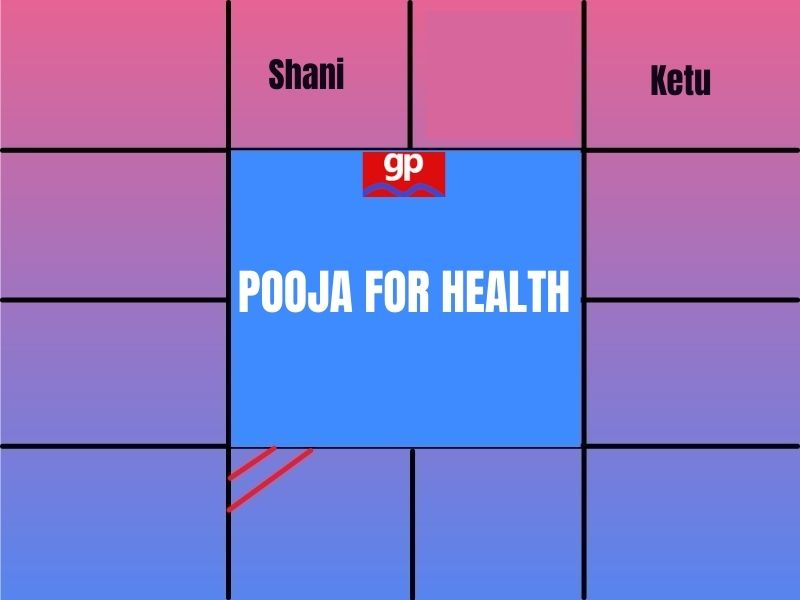 Following are the major Astrological analysis and Pooja for Health Problems.
House numbers 6th and 8th give sufficient information about one's health in the birth chart. However, these are decided by Langnadipati, 6th and 8th house Lord magnitude of strength. Shani effects on the birth chart. Aspecting of planets on 6th and 8th house should be analyzed properly. It is always suggested to understand is there any influence of the following Dosha found in the horoscope.
1 Pitra Dosha.
2 Kuja Dosha.
3 Sarpa Dosha.
4 Kaal Sarpa Dosha.
Remedies for Astrological Analysis Pooja – Health Problems.
1 Dhanavantri Homam.
2 Maha Mrityuanjya Homam,
3 Ayusha Homam.
4 Rudra Homam with Shiva Gayatri jap.
5 Navagraha Homam, and
6 Shani Shanti pooja.
Diseases list associated with Planets. (Graha). If the below-mentioned disease is found, corresponding Graha Shanti must be done.
| | |
| --- | --- |
| Planet Name – Graha | Disease |
| Ravi-Sun | Cough, Fever, Heat-Related disease. Eye and Vision |
| Chandra-Moon | Cold, Influenza, Asthama, Rheumatism, Jaundice. |
| Kuja-Mars | BP, Hypertension, Blood Cancer, Blood & Skin related diseases. |
| Budha-Mercury | Nerve related, Leprosy, ENT, Cough, and Cold. |
| Guru-Jupiter | Diabetes, Liver, Gall Bladder, Cancer. |
| Shukra-Venus | Kidney, Knee, Rheumatism, Undiagnosed disease, and Private parts. |
| Rahu | Heart and Cardiac, Intestine, Leprosy, Skin related. |
| Ketu | Indigestion, Stomach related, Ulcer, Poison related. |
Health problems poojas due to medical reasons.
1 Dhanavantri Pooja with Homam.
2 Maha Mrityuanjaya Homam.
Pooja Remedies for Health Problems – Cost.
The Homam cost varies from INR 12000-INR 85000. This price depends upon the type of the pooja and number of mantras, the number of Brahmins, Accommodation, and Food.
For details Contact :
Punyashrama
Om Beach Road
Gokarna, Karnataka.
Pin code: 581326
E-Mail: gokarnapuja@gmail.com
Phone 1: 9663645980 (To speak in English/Hindi/Kannada)
Phone 2: 9448628918 (To speak in Kannada/Hindi/Telugu/Marathi/Konkani)
Also see: Dhanvantri Homam