(Last Updated On: November 11, 2021)
Naga Pratishta Pooja: This is the process of installation of carved Naga stone in Naga Temple or Nagabana or around Banyan trees. This additional puja is for the completion of the entire pooja cycle of Sarpa dosha or Sarpa samskara.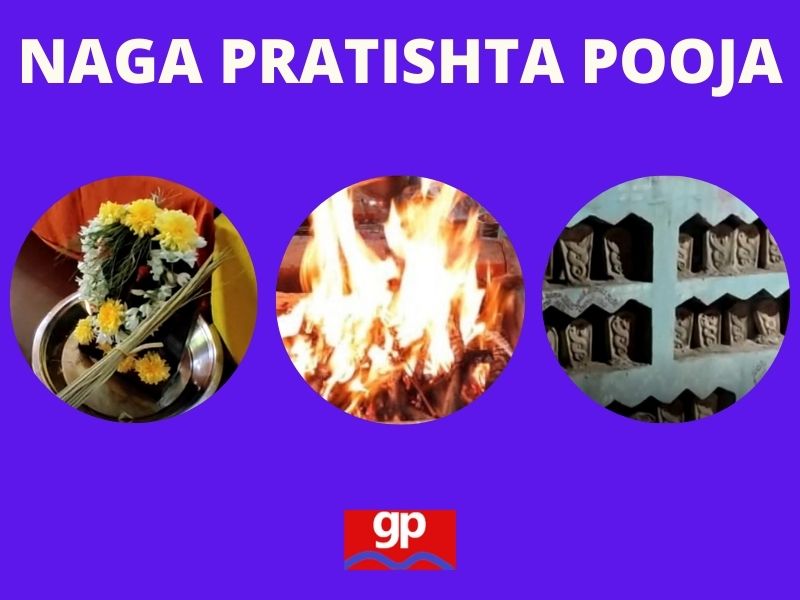 Who should perform Naga Prathishta Pooja ?
1 Sarpa dosha found in the horoscope
2 Persons who perform Sarpa Samskara
3 Persons who perform Sarpa dosha pooja.
4 Persons who perform Naga/ Sarpa pooja for the welfare of the family.

Benefits:
1 Delay in marriage minimized.
2 One can overcome pregnancy-related hurdles.
3 Activities related to land and construction will be completed on time.
4 Professional success of family members.
5 Good health and peace of mind. Relief from stress.
6 Positive energy creation for physical and mental balance.

How to perform Naga Prathishta Pooja?
Time needed: 1 hour and 45 minutes
Vinayaka puja.
Sarva Devi/Devatha pooja.
Sankalpa.
Naga idol purification and alankara.
Naga idol energization.
Sarpa Gayatri mantra jap.
Sapa Japa Homam.
Poornahuti.
Idol installation at Naga Temple or Nagabana or around a Banyan tree.
Naga Pratishta Pooja Cost.
This puja cost starts from INR 8000 – 28000. The difference in the price is due to the number of total mantras chanting and the number of Brahmins.
For details Contact :
Punyashrama
Om Beach Road
Gokarna, Karnataka.
Pin code: 581326
E-Mail: gokarnapuja@gmail.com
Phone 1: 9663645980 (To speak in English/Hindi/Kannada)
Phone 2: 9448628918 (To speak in Kannada/Hindi/Telugu/Marathi/Konkani)
Also see: Sarpa Dosha Nivarana Pooja