(Last Updated On: July 8, 2021)
Sri Chakra Pooja with Homam: Cosmic spiritual union Mandal pooja of Devishakti diety which includes Devi Lalita, Shodashi, Panchadashi, and Shiva mantras. Shodashi mantra is also known as Shodashakshari Mantra.
Sri Chakra Yantra is considered equivalent to 64 Chakras given by Lord Shiva. This pooja with Homam is very effective to overcome negative energy. Therefore this pooja should be done as per Vedic standards. One should perform to overcome business and financial loss. Sri Chakra Homam with Navagraha jap will yield good results for all types of hurdles and problems.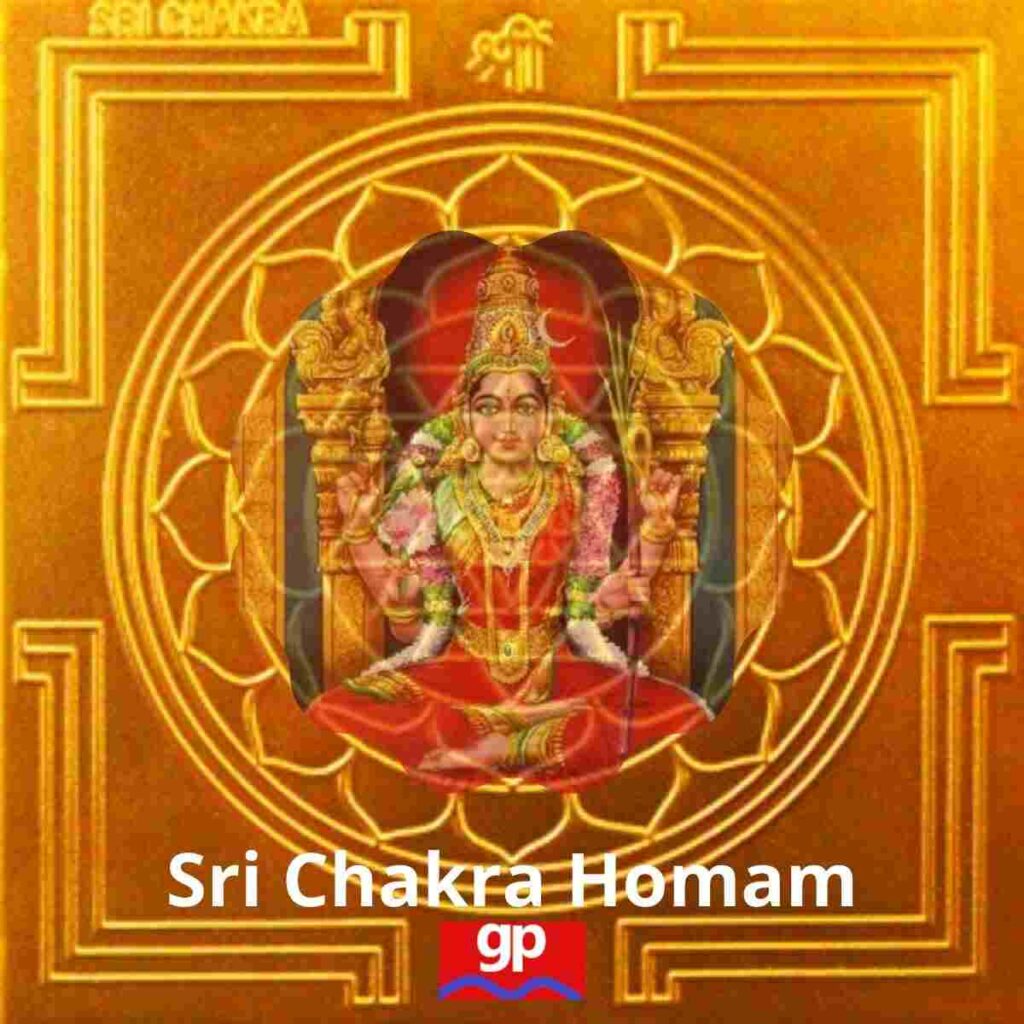 Benefits:
Spiritual and material benefits.
Remove or minimize negative energy.
Helps for Physical stability.
Helps for Mental stability.
Professional and Business gain.
Procedure:
Time needed: 2 hours and 30 minutes
Sri Chakra Pooja Procedure.
Sri Chakra Pooja and Homam Sankalpa.
Vinayaka Pooja.
Kalasha Sthaapane.
Kalasha Pooja.
Lalita mantra jap.
Shodashi Mantra jap.
Panchadashi and Shiva mantras jap.
Lalita, Shodashi, Panchadashi and Shiva Homam.
Poornahuti.
Prasad Vitarane.
Devi Lalita Mantra:
"Om Aim Hreem Shreem Sri Lalita Tripurasundari Padukam Poojayami Namah"
Shodashi Mantra:
This is a 28 letters mantra as per the Sanskrit alphabet. Except "Hreem" all others words mentioned below are single Sanskrit letters.
"Ka E i La Hreem – Ha Sa Ka Ha La Hreem – Sa Ka La Hreem"
Sri Chakra Pooja Cost :
The Homam cost varies from INR 14000-INR 85000. This price depends upon the number of Devi Lalita, Shodashi, and Panchadashi, and Shiva mantras, number of Brahmins, Accommodation, and Food.
For details Contact :
Punyashrama
Om Beach Road
Gokarna, Karnataka.
Pin code: 581326
E-Mail: gokarnapuja@gmail.com
Phone 1: 9663645980 (To speak in English/Hindi/Kannada)
Phone 2: 9448628918 (To speak in Kannada/Hindi/Telugu/Marathi/Konkani)
Also see: Sudarshana Homam