(Last Updated On: March 30, 2021)
Shukra Aditya Sandhi Shanti: The ending period of Shukra (Venus) Maha Dasha and starting period of Aditya (Sun) Maha Dasha forms Shukra Aditya Sandhi. One should perform 45 days before the ending period of Shukra Maha Dasha. Especially the last six months of Shukra Maha Dasha and the first six months of Ravi Dasha are crucial periods. People perform this Shanti pooja Navagraha Purvak with a primary focus on Shukra and Aditya mantras.
Leo is the own house for Sun (Aditya). Taurus and Libra own houses for Venus. Aditya (Sun) responsible for the profession and also an indicator of Father. Sun is a masculine planet. Shukra Graha is for a relationship, marriage, Vehicle, Happiness, and comforts. Shukra is a feminine planet. Due to these characteristics of Venus and Sun, this sandhi Shanti is very important.

Saturn, Venus, Rahu, and Ketu are enemies of the Sun. Moon, Mars, and Jupiter are friends. Mercury is the neutral planet. Sun and Moon are enemies of Venus. Mercury and Saturn are friends. Mars and Guru are neutral planets. Sun planet is Lord house or Swami Graha for Kritika, Uttara Falguni, and Uttarashada nakshatras. (Constellations). Venus planet is Lord house or swami Graha for Bharani, Poorva Falguni, and Poorvaashada nakshatras. (Constellations).
Sun Mahadasha period is 6 years and Venus MahaDasha period is 20 years. Hence these two Maha Dashas cover 21.666% of the total Mahadsha period.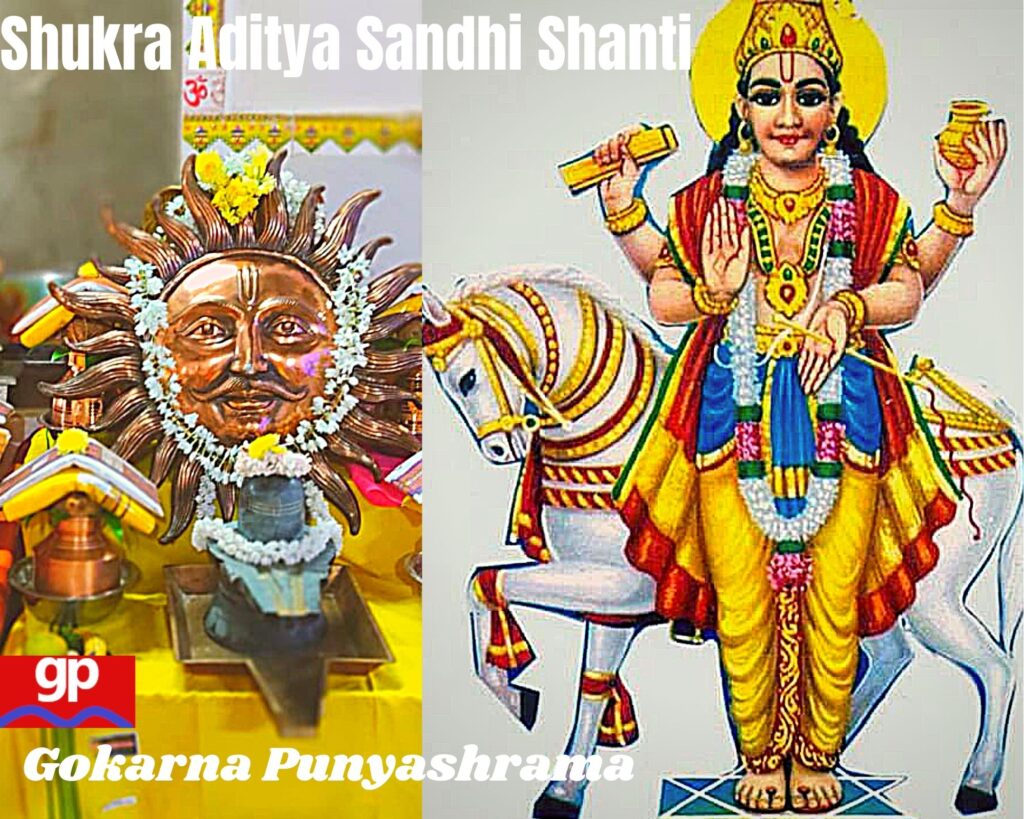 Shukra Aditya Sandhi Shanti Benefits.
Minimizes negative effects.
Improves family relationships.
Avoids accidents.
Success in the profession.
Good Health and Wealth.
Procedure:
Time needed: 2 hours and 15 minutes
Following are the procedure for Shukra Aditya sandhi shanti Homam.
Shukra aditya sandhi shanti Homam sankalp.
Vinayak Puja.
Kalasha Sthaapane
Kalasha Puja.
Navagraha Jap.
Shukra Jap.
Aditya Jap.
Navagraha purvak Shukra Aditya Homam.
Poornahuti.
Prasadam.
Shukra Aditya Sandhi shanti pooja cost.
Pooja cost starts from INR 14000-45000. Inclusive of accommodation, food, pooja materials and pandit charges.
Important days to perform: Sunday/Friday. We can refer one's horoscope and decide auspicious day and time.
Which is the right place to perform this pooja or homam?
Punyashrama, Gokarna is the right place. The presence of the Mahabaleshwar temple and Lord Shiva Atmalinga makes it the most powerful and energetic place to get good results.
Punyashrama,
Om Beach Road, Bungle Gudda,
Gokarna-581326
Karnataka.
Email: gokarnapuja@gmail.com
Phone: +91 9663645980 (To speak in English/Kannada/Hindi)
Phone: +91 9448628918 (To speak in Kannada/Telugu/Marathi/Konkani)
Also see: Parvati Swayamvara Pooja