(Last Updated On: July 5, 2021)
Masika Shraddha: Food offerings and afterlife rituals for the period of One day in Pitru Loka. In other words, one day for Devas is one human year on the planet earth. Masa is calculated on the basis of the Moon movement. 12 Masas form One year. But as per shodasha Masika shraddha there are 16 Masika shraddhas.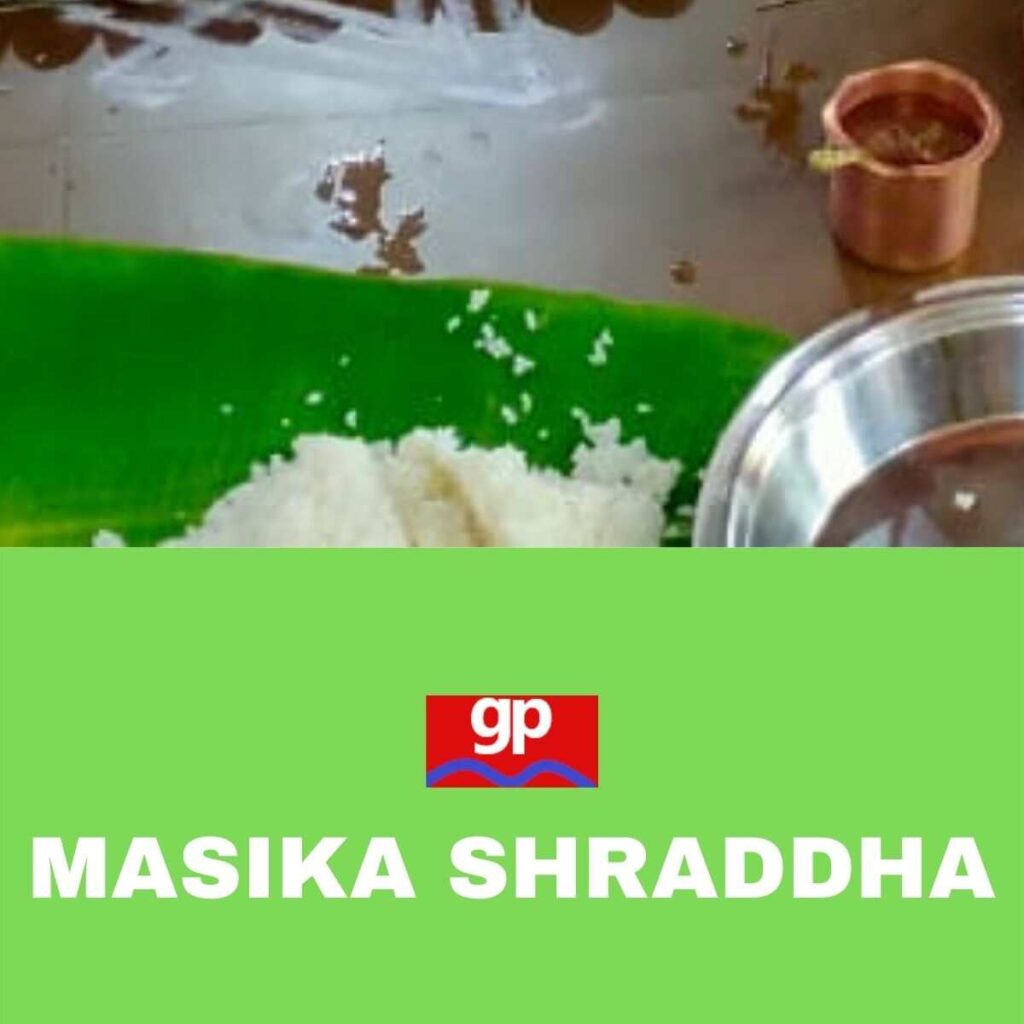 16 (Shodasa ) Masika rituals.
Masika- Adya- 21st day . Adya means First.
Masika- Unmasona- 27 th day.
30th day – 1st Masa.
Traipakshika Masa 41st to 45th day.
60th day- 2nd Masa.
90th day- 3rd Masa.
120th day 4th Masa.
150th day -5th Masa.
171- 175 day -Un shanmasa.
180th day – 6th Masa.
210th day- 7th Masa.
240th day- 8th Masa.
270th day- 9th Masa.
300th day- 10th Masa.
330th day- 11th Masa.
346th to 350th day- Unabdika and Annual Shraddha.

3rd, 5th, 6th, 7th, 8th, 10th,11th, 12t, 13th, 14th, 15th are also known as Anu Masika. On should perform Anu Masika which occurs on the death Tithi date of every month.


Benefits:
Blessings of ancestors.
For the timely occurance of good events in the family like marriage, pregnancy etc.
Our good deeds will pass on to present and future generations.
Contentment in life.
Good health.
Professional success.
How to Perform Masika Shraddha.
Time needed: 1 hour and 30 minutes
Following are the steps to perform Masika Shraddha.
Masika Sankalpa.
Vinayaka Pooja
Pitru Archane and Avahane
Vishnu pooja and Vishnu Deva archane.
Anna puja.
Brahaman Aaradhane.
Pinda Pradhan.
Prarthana
Masika Shraddha Cost.
The cost varies from INR 4500-INR 96000. The cost depends upon the number of Masika, number of Brahmins, food, accommodation, etc.
For details Contact :
Punyashrama
Om Beach Road
Gokarna, Karnataka.
Pin code: 581326
E-Mail: gokarnapuja@gmail.com
Phone 1: 9663645980 (To speak in English/Hindi/Kannada)
Phone 2: 9448628918 (To speak in Kannada/Hindi/Telugu/Marathi/Konkani)
Also See: Annual Shraddha Ceremony