(Last Updated On: May 13, 2022)
Jyeshta Nakshatra Shanti: If the Birth occurs in Jyestha Nakshatra (1/2/3/4th pada), should perform Nakshatra Shanti puja.
Jyeshta Nakshatra falls into the Ganda Moola Nakshatra set. Vishaka nakshatra's 4th pada, Anuradha Nakshatra's four padas, and Jyeshta Nakshatra's four padas come under the Scorpio sign. Moon has extreme behavioral patterns concerning the Scorpio sign. Therefore, emotions and personal characteristics will adversely affect one's life.
---
---
---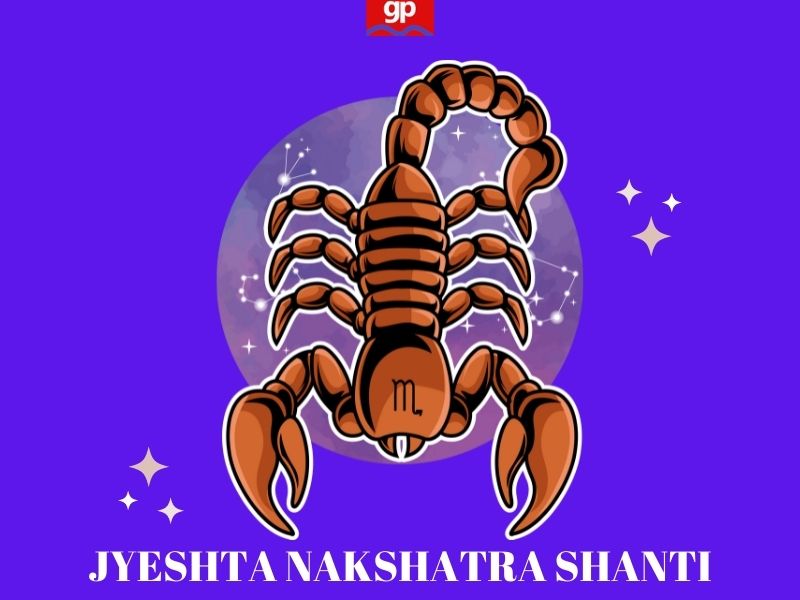 Who is likely to have effects?
If birth in the first pada, the mother is likely to suffer, the father is likely to have hurdles in the second pada, in third pada, siblings may have problems, and in the 4th pada, it may affect the person himself.
The problems are inevitable if a child's birth occurs during the first 48 minutes of Jyeshta Nakshatra.
Jyeshta Nakshatra Shanti Puja Benefits
1 Control of ego and emotions
2 Helps to lead life from personal level to public welfare level.
3 Minimizes barriers related to health, education, marriage, and profession.
4 Protects parents and siblings from sudden harmful incidents.
Procedure
Time needed: 2 hours and 15 minutes
Jyeshta Nakshatra Shanti Puja's major steps.
Sankalp.
Vinayaka Puja.
Kalasha sthaapane.
Kalasha Puja.
Jyeshta Nakshatra Jap.
Specific malefic planets Jap.
Jyeshta Nakshatra Homam.
Poornahuti.
Prasada Distribution
Jyeshta Nakshatra Shanti Puja Cost
The puja cost varies from INR 14000-to 65000. The price variation is due to the number of mantras and Brahmins. Inclusive of accommodation and Satvik food for a night/day.
THIS IS THE FIRST STEP. ACT NOW!
Puja Place and Online Puja
Punyashrama, Gokarna, Karnataka, India.
There are two options.
1 Visit Punyashrama, Gokarna and perform puja.
2 Perform Online live puja in absentia.