(Last Updated On: May 13, 2022)
Bhoo Varaha pooja is a beneficial Homam for buying a land/house.
This pooja is for God Varaha, 3rd incarnation of Lord Vishnu. When one performs this pooja with homam helps to purchase a new property and makes family members live peacefully in the existing house. Bhoo means land in English. A specific set of recitations of the Varaha Moola mantra and Stotram gives good results quickly.
---
---
---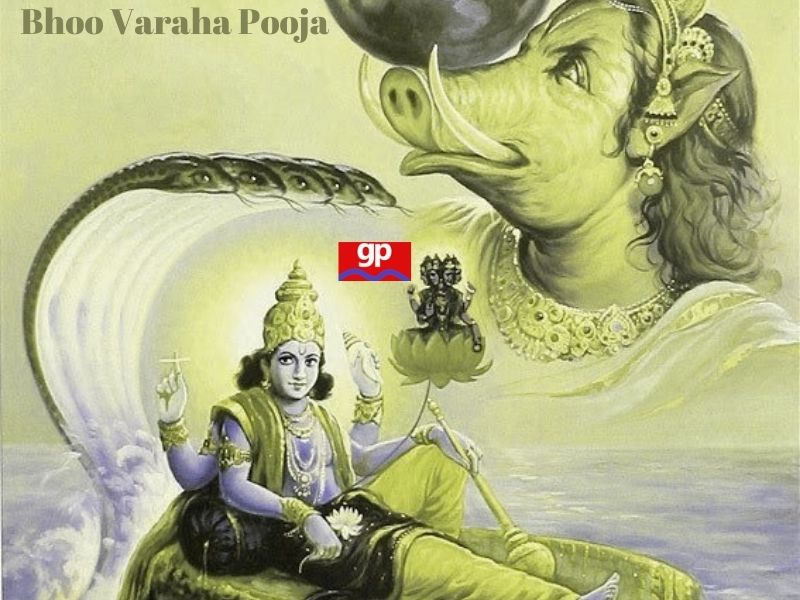 Bhoo Varaha Pooja Benefits
By doing this pooja, one would purchase the right property at the right time.
One can overcome Vastu-related obstacles in the existing property.
Minimizes negative energy induced by others in the leaving space.
Construction of a new building or renovation will occur without hurdles and financial constraints.
Pleasure and peace.
It helps to acquire property through justice.
Varaha Pooja and Homam Procedure
Time needed: 2 hours
Important steps of Varaha Pooja and Homam
Sankalp
Vinayaka Pooja
Kalasha sthaapane
Kalasha Pooja
Navagraha Jap
Varaha Swamy Upasana and Mantra
Dharani Devi Jap
Navagraha Purvak Varaha and Dharani Devi Homam
Poornahuti
Prasadam Distribution
Varaha Mantra (stotram)
Om Namah Sri Varahaya Dharanyuddharanaya Swaha
Meaning: Salutations to Sri Varaha, who rescued the Earth.
One should chant the mantra properly along with Dharani Devi Mantra.
Bhoo Varaha Pooja Cost
Cost Varies from INR 14000- 65000. The price variation is due to the number of Japas, the number of Brahmins, and the planet's effects. The Cost is inclusive of Accommodation and Satvik food.
THIS IS THE FIRST STEP. ACT NOW!
See also: Aghora Homam.